Earn it, Build it, or Buy it — Three Ways to Grow a Community around your Product
The people that buy your product, that share your updates, that tell the world about your super features. They are your best asset. Better than a fresh round of funding and way more sustaining than a puff piece in Forbes. Whatever stage your product is at, an engaged community can take you onward and upward.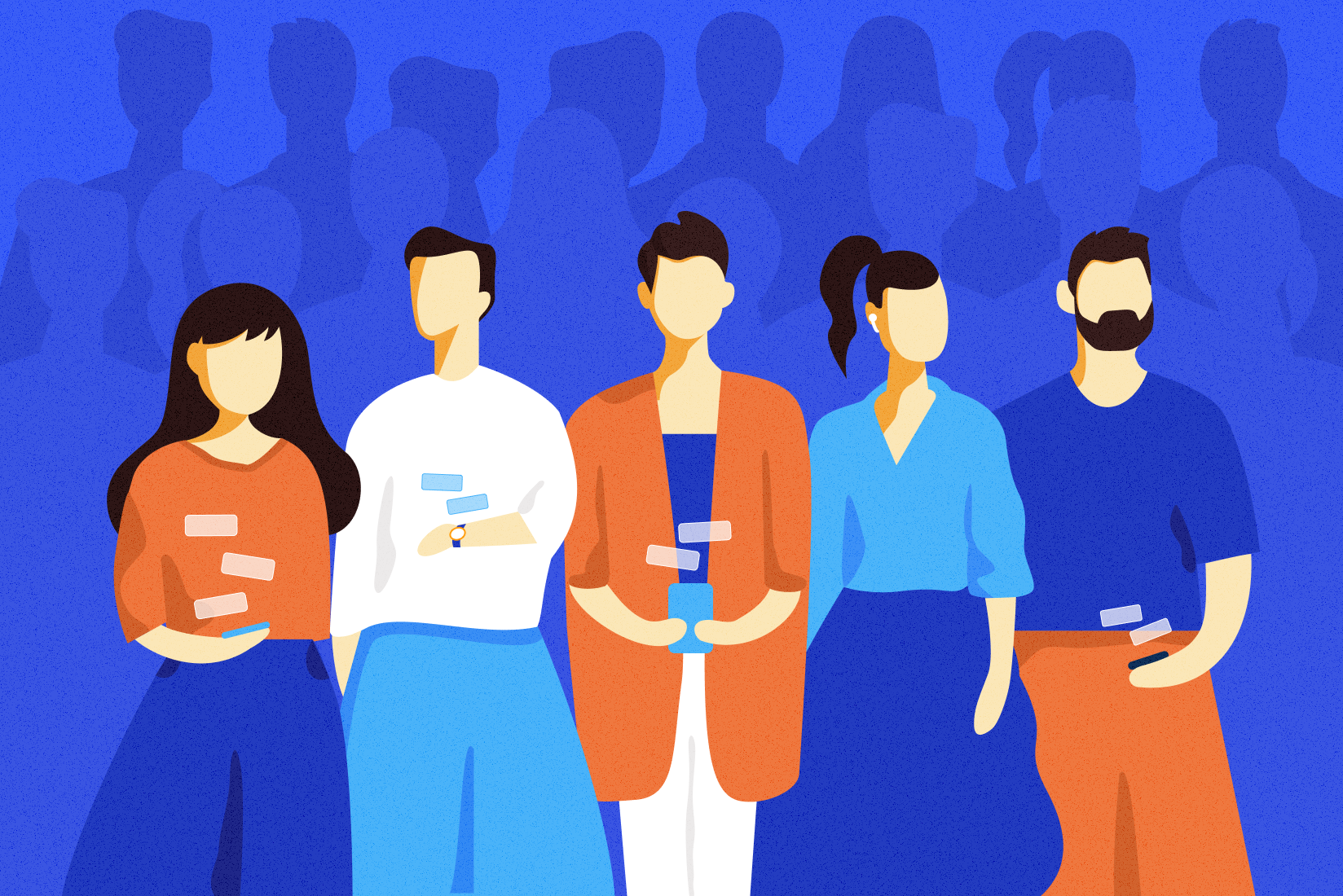 But first, let's be clear about community. I was once a community manager at a startup in the middle of a major hype bubble.
A few weeks after our social channels launched, we bought a few thousand followers on all of them to juice the numbers a bit. This did nothing for us except burn some early-stage investor cash. That's not community, it's bullshit.
Today, I'll break down three successful community-building strategies. These are not the only three ways, and you don't have to rigidly follow one approach.
They all require consistent delivery of value and a good ear for listening, anticipating and understanding what your audience wants.
Each method takes a different route to get your product flywheel spinning and growing. An active community can be a driving and dynamic force in that flywheel. One that creates and sustains energy to propel a business for years.
Earn it
For this strategy, let's break down the community that formed around one of Paralect's oldest products — Robomongo.
The target audience, the one that grew into a global community, was software developers working with MongoDB.
But soon enough, the growth of Robomongo's user base also pushed up the cost of maintaining the product. With no revenue from the free and open-source solution, the maintenance costs became too much of a burden for Dmitry and Paralect.
One Amazing Aspect of Community
Is the opportunities that it can open for your product.
After pondering this cost issue quietly for a while, the team decided to go public with the problems they were facing.
And here's where the user-base really transformed into a community. They tried a crowdfunding drive but fell short of the goal. But the campaign brought attention to the issue and Robomongo's popularity grew even more.
Inspired by the support, the team introduced paid tiers for Robomongo based on the feedback from users — they'd rather pay a bit than see it become an abandoned project. And it worked!
Eventually, this spike in popularity and the pivot to a more sustainable revenue model brought the attention of 3T Software Labs. The team and 3T came to an acquisition agreement and Robomongo was purchased.
Build it
Next up, let's look at Wynter, a product we helped develop, launch and continue to expand.
Wynter's CEO Peep Laja is vociferous on several social media channels, but his engaged audience did not flock to him overnight. He's been building it around the CXL Institue and Speero (formerly CXL Agency) for a decade.
Here's his latest advice on audience building.
But as I've already said, an audience doesn't always transform into a community. With Wynter, it was orchestrated to perfection.
The Wynter Games
Wynter wasn't always called so. It started as Copytesting — a straightforward descriptive name. Once the idea had been validated and they clearly saw the target audience, the team decided to update the name.
Late last year — before the name change — Peep kicked off a webinar event called Wynter Games. He invited the best B2B copywriters and marketing experts to take part.
It was a hit. So there was already brand recognition with the name and it was easy to make the switch for the whole product.
And Wynter Games goes on every month. Peep and the team leverage the webinars by transforming them into blog posts and other forms of content to quickly build Wynter's brand reputation. The series functions as a lead magnet, an engagement tool and a content flywheel all at the same time. Brilliant!
With a strong community of copywriters, Wynter created a series focused just on the value propositions submitted via Twitter and LinkedIn. The writers get feedback on their ideas, startups get a free taste of Wynter and everyone else gets ideas to improve their messaging.
Last week we asked your URLs for re-writing your value propositions.

This week we start sharing them.

First up TokyWoky.

The new headline and leading paragraph were written by @nevmed.

What do you think? pic.twitter.com/goIHkMl5z8

— Wynter (@wynter_com) January 19, 2021
You can hear more from Peep about Wynter and his approach to making an impact with marketing on this Marketing Millenials podcast.
Buy it
This strategy example popped up in my Twitter feed just as I was outlining this post. It won't work for every product, but with the right timing and a smart approach it can definitely work.
Conor Lewis lost his job in April 2020. In late January 2021, his Kickstarter campaign raised 2.2 million dollars in the first 12 hours after launch.
His product? A magnetic pillow kit for building little pillow forts.
Right time, right place? Sure. But there's way more than coincidence that turned it into a successful launch.
So here's what went down. He worked with Kickoff Labs to design the landing page and the viral sharing campaigns. These started in September 2020.
Remember the end of last summer? We were all going stir crazy, Covid was in a bit of a lull but not really going away. Schools were trying to re-open some places, others were settling in to remote for the foreseeable future.
If you had little kids at home — well, kudos to you for surviving. Your kids had probably made the living room into a permanent fortress by this point.
Start the hype train
So Conor and the team started hitting Facebook with a simple lead magnet and incentivized sharing with discounts.
Boom, so many subscribers that he had to scale down the discounts to ensure he made any margin at all. In three months, he spent ~3,500$ and gained almost 80k subscribers for the Fort email list.
On top of that, the Fort had 10k followers on Instagram and a Facebook group with 13k members. This was all pre-launch. Talk about a primed audience.
FORT KICKSTARTER UPDATE THREAD, 01/27/21: 6:40AM CST

🚀 12 HRS Within Launch: $2.2mil

Pre Launch Stats -

📧 Email List: ~78,000
💬 SMS List: ~8,500
🤪 FB Group: ~13,000
📸 Insta: ~10,000
💰 Bootstrapped: — Conor B. Lewis (@conorblewis) January 27, 2021
With the right product at the right time, Fort was quickly able to leverage a referral program and a well-targeted, but modest, advertising campaign into a crowd-funding success story.
Key benefits of community
From these three examples, we see that an engaged community among your customers lets you:
Raise awareness about your product at early or later stages.
Build a content flywheel that will support product discovery and further community engagement.
Open new opportunities for revenue whether they be via paid subscriptions, crowdfunding or even acquisition.
But it's not all straight-sailing cargo ships and unicorns.
There is the risk that the audience or community that gathers around you via social media, a newsletter, podcast, Youtube channel or any other digital platform might not be a good fit for your product.
This is best visualized by this image from the book Strategic Marketing Management by Alexander Chernev.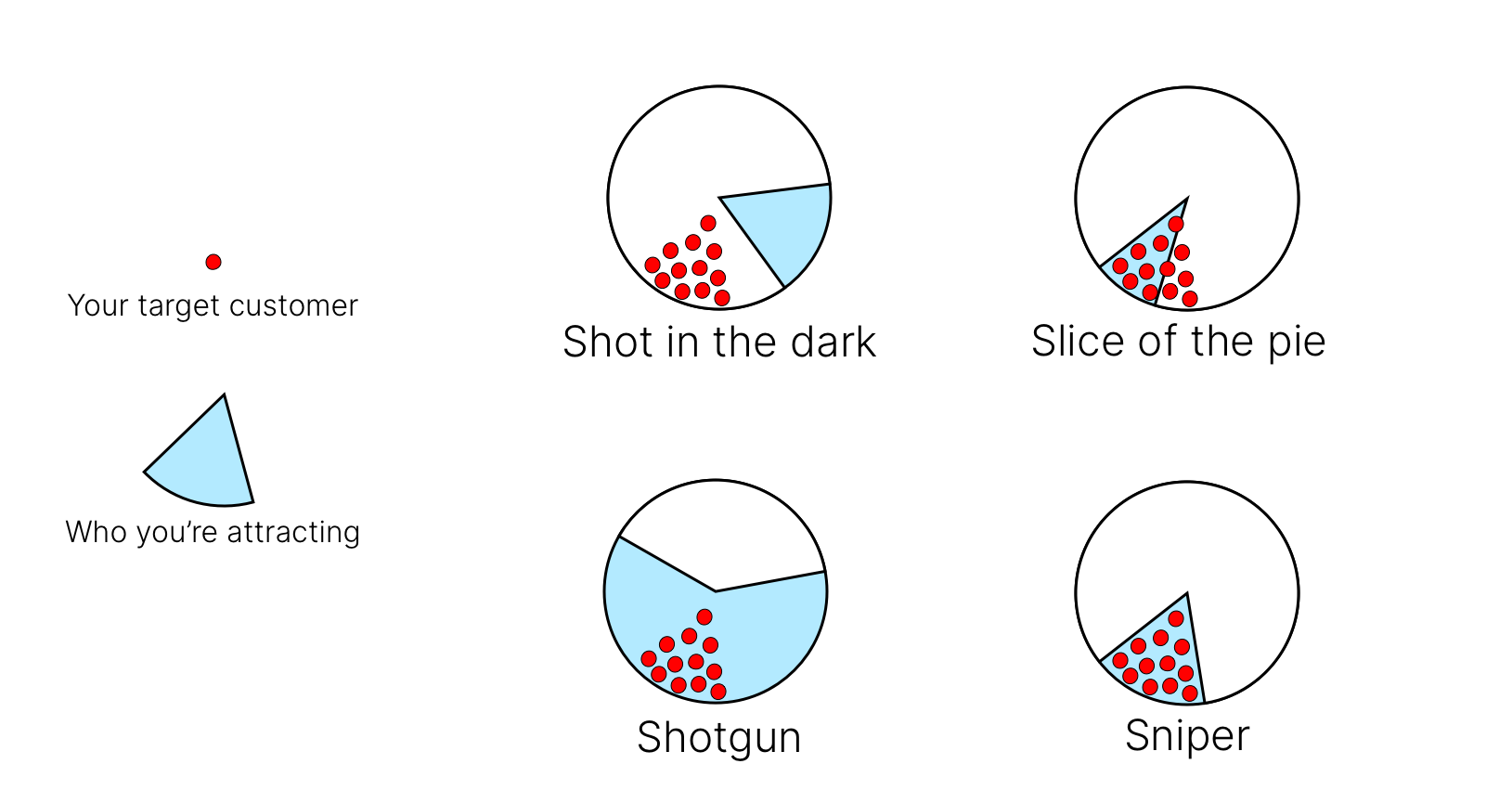 Obviously, we're not all natural snipers from day one, but just try to avoid taking shots in the dark.
This topic generated an interesting discussion over on IndieHackers and it's worth a read.
The strategy you use to launch your product and/or your community won't be perfect from day one. But the feedback you get from community relationships can support and guide you through the rough bits.
---
If you're an aspiring founder with an engaged audience and are ready to create a product and thriving community around it, consider joining our early-stage startup accelerator.
Bonus — Trying to start or expand a community around your product idea? This Resource Guide is a great place to start or improve your community-building efforts.