How to set up an effective process for UX/UI Design and Product Management collaboration
The correlation between the designer and product manager is fascinating. We collaborate closely, and there is a lot of overlap in what each of us does and brings to the table. I'll describe the main aspects of cooperation between Product Managers and Designers on the project and ways it could be improved.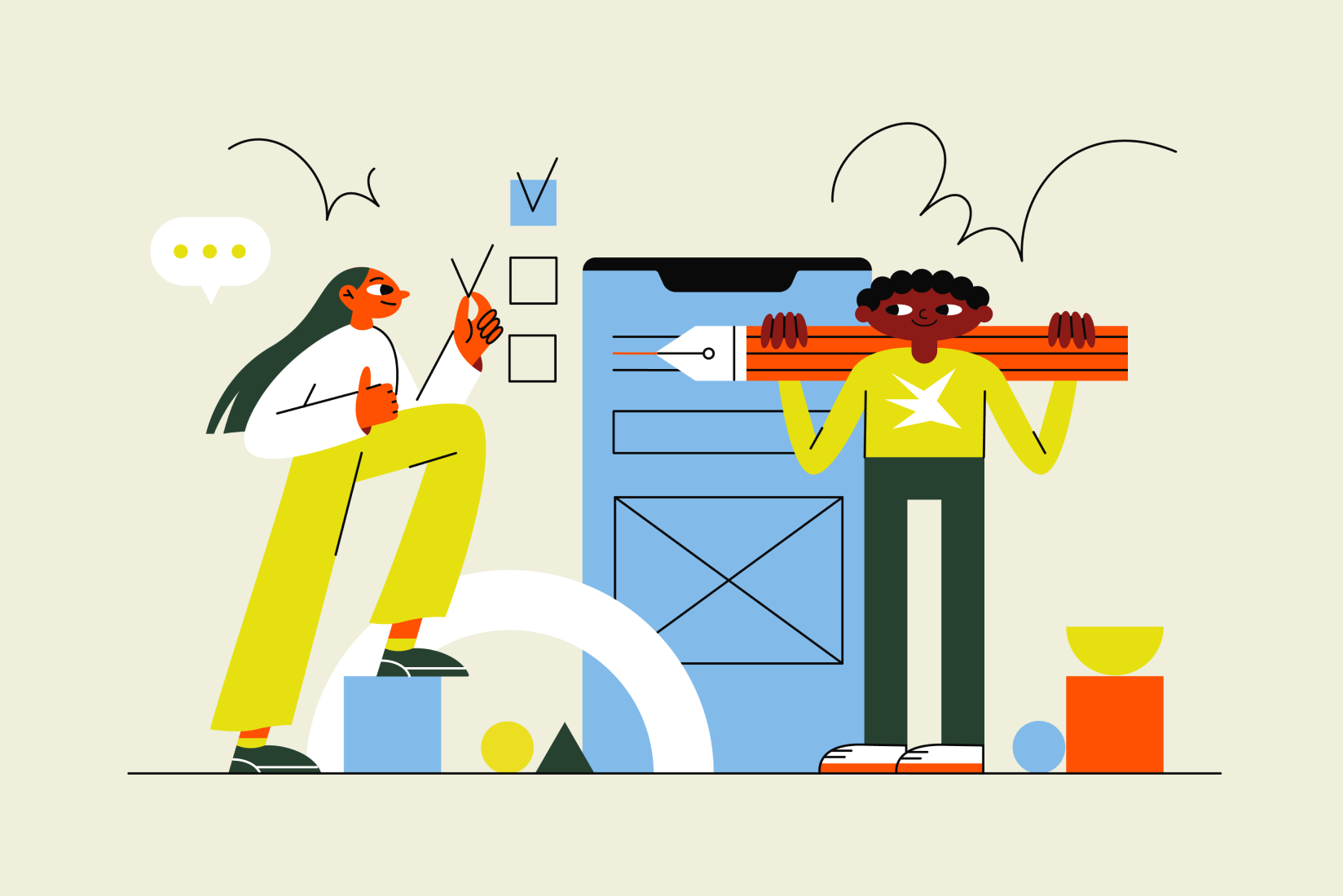 The Product Manager (PdM) and Designer (UX/UI) are both responsible to meet the needs of users or organizations from a technological perspective. These roles have skills and functions that overlap and both use design thinking.
But it can be confusing — at which stage do designers join forces with PdMs and what specific responsibilities fall on one or the other — or both?
Let's find out in stages:
This guide is the product of interviews across our team in these roles, experiences we've had on product teams at various stages and current best practices from both specialties.
Although a PdM is more business-oriented, a designer is more concerned with the end-user as well as the design.
But the PdM must take user needs into account during the design process.
Designers and PdMs have a lot more in common than you may think. Both are in charge of delivering apps that meet company objectives as well as consumer expectations.
They could disagree over how an app should be designed and built. This happens when there isn't a clear definition of the project's scope and responsibilities.
What issues block a well-functioning collaboration between these roles?
The partnership could be difficult due to time constraints or gaps in project processes.
The overall responsibilities of Designers and Product Managers could be mixed which might lead to delays, conflicts, and misunderstandings.
The overall collaboration seems to be complex and can slow down the whole team.
UX/UI Designer
Creates the concept of the product.
Determines how the design solves business problems and achieves goals.
Together with the product manager, leads the product team to implement the strategy.
Takes into account the limitations and needs of the market and technology.
Initiates research and testing.
Product Manager
Creates a product that solves the user's problem while also helping the startup to grow.
PdMs must understand the user needs, the industry, the market, and build a bridge between them and the company goals.
The PdM role is quite challenging because we need to explain to not only the product team (designers, developers, QA testers) but also the founders or management team our plans and strategy.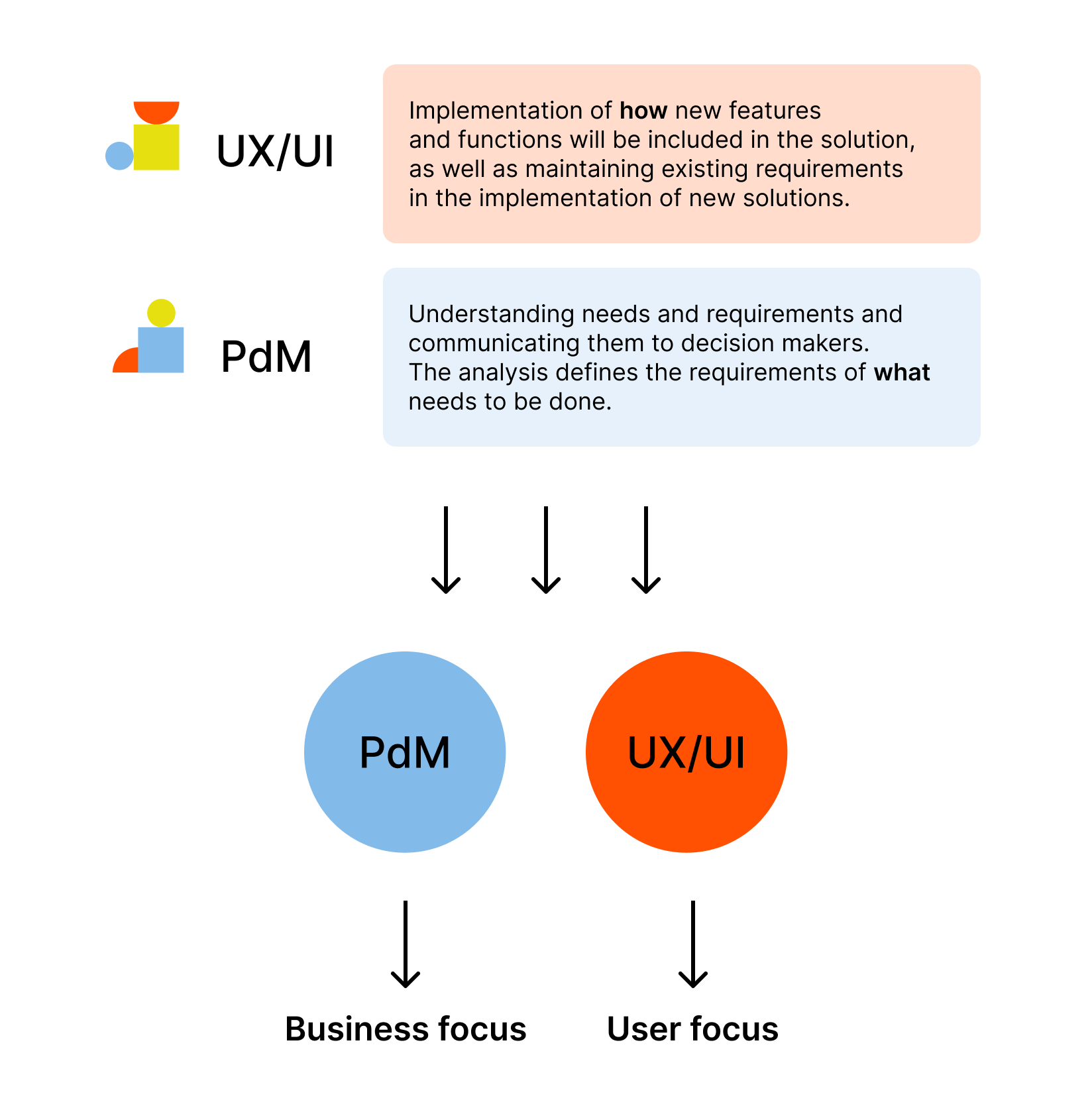 💡The key distinction between PdM and UX is the approach they take towards the problem space in order to elicit and gather requirements, particularly during the Discovery and Pre-Sale stages.
The PdM focuses on understanding the problem space from a business standpoint. Their responsibilities also include converting concepts into actionable business requirements, defining business objectives, and managing stakeholders as well as expectations.
In contrast, designers focuses on qualitative and quantitative user research to identify the user's motivations, needs, barriers, pain points, and context, guaranteeing that user requirements are validated and understood.
☝️Both of these roles work hard to build a successful product by performing comprehensive research and thinking processes. They must both make decisions about what they believe is best for their product at a specific stage.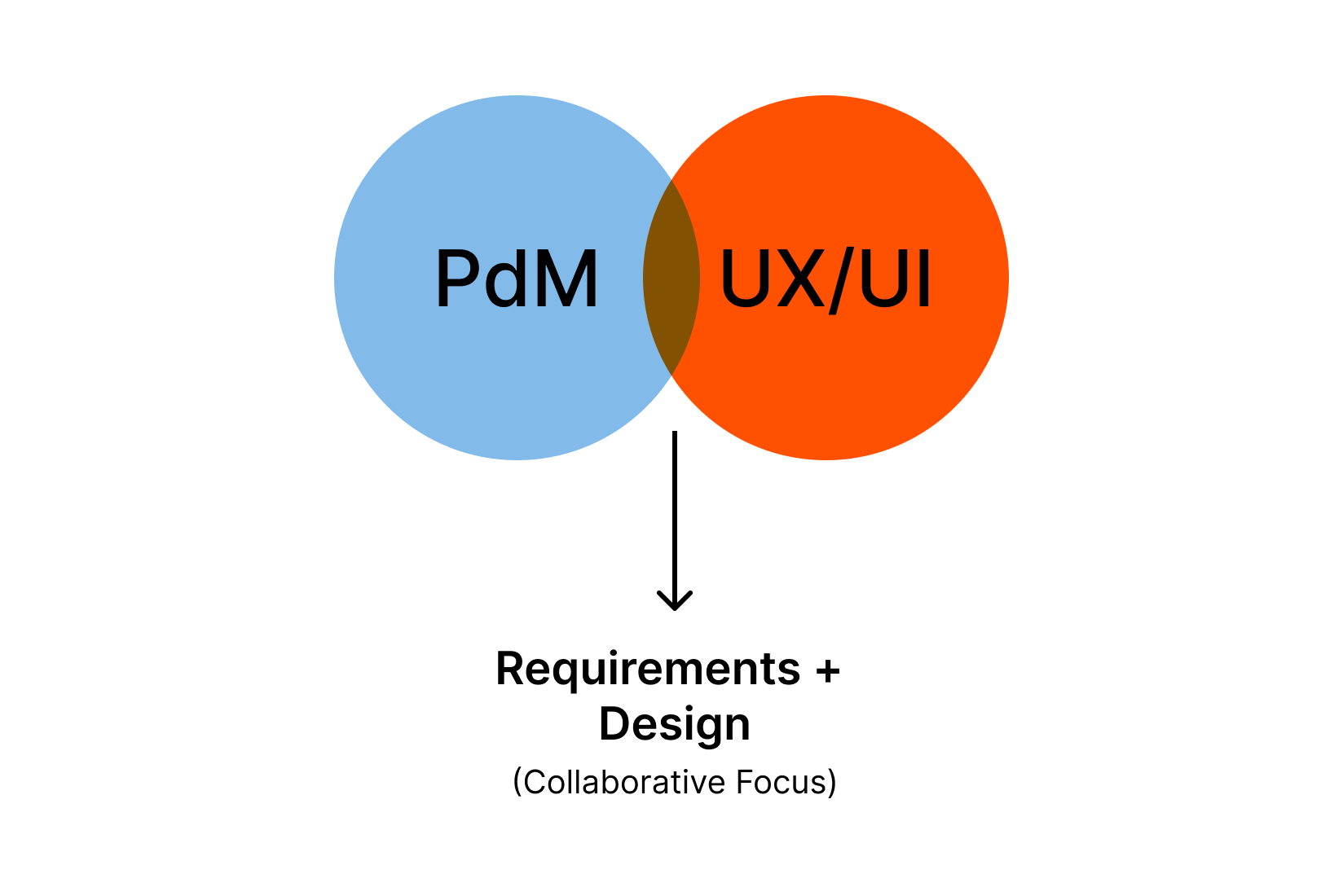 🤝Share knowledge continuously

PdM and Design work together to keep the project running smoothly from start to finish. They can offer ideas in all stages of a project, from discovery to design to development.

🆘 Help

Overlapping responsibilities doesn't mean "the same role on a project." It's about complementing, cooperation, and adding up to the overall project context and mutual understanding.

💬 Talk

Defining the scope of responsibilities may not be a replacement for clear and open communication. We should establish what to do when there is any confusion over who does what.

👁️ Keep focus

At first sight, it may seem we create the same artifacts. However, our focuses are different.
Let's take a wireframe. It's important to know that a PdM doesn't necessarily focus on the UX or UI design — they mainly focus on the business context. A UX designer knows how to improve the UX and meet business requirements, but they don't have all the information that can be vital to the job. Unless a PdM is willing to accept changes from the UX, or unless a UX designer has full information, the wireframes will be incomplete and flawed.
☝️ Do not forget!
The scope of responsibilities depends on the skills. If a PdM cannot boast of extensive experience with problem interviews, a designer will step in. If a designer is not ready to elicit requirements, PdM will do it and share it with the team.
We have conducted a survey within the team of Product Managers to find out from their perspective on which artifacts it is better to work collaboratively with Designers.
There is no doubt that some of the deliverables in a project are created by PdMs, but it would be wrong to say that designers don't also provide valuable support in preparing documents. The same is true from the other side of the coin — sometimes PdMs can be depended on for help!
As the main result of our research, below is a list of artifacts plus comments from the PdM view on where input from both sides is crucial 👇
Usability Testing: Designer
Evaluating a product or service by interviewing representative users. The goal is to identify any usability problems, collect qualitative and quantitative data and determine the participant's satisfaction with the product.
"Though both of the roles are valuable, PdMs seem to be more in a support role here🤙"
User Profiles/Personas: Designer
A collection of settings and information associated with a user. It contains critical information that is used to identify an individual, such as their name, age, portrait photograph, and individual characteristics such as knowledge or expertise.
"Most of us believe UX designers are responsible for this artifact. At the same time, the majority of product managers we interviewed on our team believe User Personas can be completed without mutual input."
Problem Interview: Product Manager
The Problem interview is all about validating hypotheses around the problem-customer segment pair. The goal of the problem interview is to figure out who the early adopters of products are going to be, what problems we can help them solve, and how they solve these problems today.
"It was pretty obvious that the Problem Interview should be the responsibility of the product manager, but occasionally on certain projects designers are willing to help out with it. The team suggested that the artifact becomes even more valuable when it's a collaborative creation between product managers and designers, which means shared responsibility. 💌"
User Flow: Designer
The entire experience a customer has. It considers the complete interaction roadmap from brand discovery to purchasing and beyond.
"Over half the team agreed that PdMs take the responsibility for the artifact."
Wireframes: Designer
A wireframe is a two-dimensional illustration of a page's interface that specifically focuses on space allocation and prioritization of content.
"This is a funny one. The responsibility for wireframes completely depends on the case, if there is a designer on the project, then ideally they could help with that. However, "lo-fi wireframes should be on BA (PdM) and be as ugly as possible" 😅 just so the founder gets the idea."
Prototypes: Designer
A method of obtaining early feedback on requirements by providing a model of the expected product before building it.
"Unanimously, the PdM team believes that this artifact falls within the scope of the Designers' responsibility."
Bonus Breakdown
We'll also share our thoughts on some artifacts which could require input from both sides, but where it rather depends on a certain project and situation. These are:
Stakeholder Interview: Product Manager
Interviewing stakeholders is a vital element of any project. The insights you gain during these interviews are crucial to the success of the project. These insights include business goals, technical constraints, and usability problems.
"We have heard an opinion from both teams that this is a very crucial part of the project, especially at the very beginning, so for designers, it is extremely valuable to start to dive into the design with specific questions from the client along with PdMs, however, we have concluded that more responsibility is on the PdMs 💯"
Use cases or User Stories: Product Manager
User Stories and use cases are techniques to capture requirements and communicate them in clear language to the people who will be building a product.
"Surely depends on the level of granularity/details - if that's too low, we assume that designer(s) input is required for sure! 📝"
Scope Document: Product Manager
The scope of a project includes all the work (functions and features) required to complete the final deliverable of the project and any factors that might affect project success.
"Depending on the project, this is wholly the PdMs responsibility, however certain part(s) of the document like accessibility requirements can be delivered by a designer, like for example WGAG 2.0. — the PdM can use some great help here💪"
Roles and Permissions Matrix: Product Manager
A tool used to document what user role is allowed to access a function in a system.
"We use the roles and permissions matrix to designate responsibilities, identify roles, discover missing roles and communicate the results of a planned change, it is awesome when it is a collaborative process 🦹‍♂️ 🦹‍♀️"
Workflow Model: Product Manager
A series of tasks and decisions that make up the process of a business. With the help of a workflow model, business users can visualize the flow of a process and optimize it for efficiency and success.
"We should agree that in some cases artifacts that mention modeling or prototyping should be carefully created along with the professionals of the design 🎨"
Moodboard: Designer
Physical or digital collages that arrange images, materials, text, and other design elements into a format that represents the final design's style. A mood board can also serve as a valuable resource to keep the team on track with their client's expectations while also increasing collaboration.
Product Analytics: Product Manager
A way to capture data from digital products. Essential for developing strong customer relationships. Analytics allows teams to learn more about their users' experience with the product, and eventually create better products.
Product Roadmap: Product Manager
A blueprint of your product vision and strategy, it helps you put product plans into action and make progress towards your goals. A product manager is a person who leads the charge in collecting and interpreting research, ideas, and feedback, as well as translating this information into a product roadmap.
UI/UX Audit: Designer
A way to pinpoint less-than-perfect areas of a digital product, revealing which parts of a site or app are causing headaches for users and limiting conversions or product growth.
That's the full picture of PdM and Design collaboration through the Product Discovery and Design phase.
---
Bottom line — clear communication and mutual understanding of responsibilities will transform an idea into a new product faster and with better results for both the users and the startup or business!